About Us
---
Started in December of 1901, the dream of Carter Ashton Jenkens and eleven other men became a reality as the Sigma Phi Epsilon fraternity was born at Richmond College in Virginia. After nearly a century, SigEp is now the nation's largest fraternity, boasting over 270 chapters throughout North America, 255,000 supportive alumni, and the nation's highest all-chapter GPA, which is over a 3.1. Our New York Beta chapter has the tenth highest GPA on campus at a 3.476. While maintaining focus on academics, all members of SigEp are involved in their individual pursuit of key lessons contained in various Balanced Man challenges - a process that builds knowledge and experience in their roles and responsibilities as members of the fraternity, larger community, and world - preparing them for meaningful life as capable leaders, citizens, employees, and parents.

Sigma Phi Epsilon has a long standing tradition here at Cornell. Our roots can be traced back to 1903, when a small law fraternity named Theta Lambda Phi stood at 112 Edgemoore Lane near Collegetown. By 1912, it found itself in need of change and it took the opportunity to merge with the growing national fraternity to become the New York Beta Chapter of Sigma Phi Epsilon.

The Cornell chapter grew very quickly, while maintaining the fraternity values that we continue to uphold today. In 1966, the fraternity voted to move to 109 McGraw Place, and SigEp maintained a strong presence on campus up until 2005. In 2006, the National Headquarters staff and a determined alumni base worked to bring SigEp back to Cornell based on the Balanced Man model. From the very first days, the chapter developed a strong year-round recruitment process, an exciting and involved member development program, and a meaningful relationship with the Alumni Volunteer Corporation (AVC). Our chapter is home to 70 brothers who study a variety of subjects from all 7 colleges at Cornell. About 75% of our members participate in and hold leadership positions in various campus organizations and professional fraternities.
History & Facts
The history of the Fraternity reflects the times, through great wars and profound cultural shifts. Throughout the decades, the men of Sigma Phi Epsilon have practiced their values and embraced the stated desire of the Founders, "This Fraternity will be different." Today, the University of Richmond campus features the Sigma Phi Epsilon Founders Walk, (pictured below) a path in the center of campus that honors the 12 men who started what would become one of the nation's largest fraternities.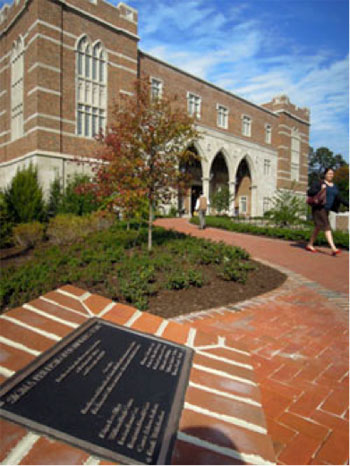 Pick a time period below and learn more about SigEp's legacy:

First 50 Years: From 1901 through the 1940s

Second 50 Years: From the 1950s through 2000

Into the New Millennium: From 2000-present day
Facts and firsts
- SigEp was founded on November 1, 1901, at Richmond College.

- Over the past two decades, SigEp has recruited more men than any other collegiate fraternity.

- Currently, more than 15,000 undergraduates are SigEps, more than any other national fraternity.

- Nearly 300,000 lifetime members ranks SigEp among the largest national fraternities.

- SigEp maintains a full-time professional staff of over 35 people.

- The SigEp Journal has been published continuously since 1904, and is distributed to all members for life.

- SigEp hosts the largest biennial convention in the fraternity world: the Grand Chapter Conclave.

- SigEp was the first national fraternity to establish a housing trust for all chapters and create a National Housing Corporation.

- Sigma Phi Epsilon has the greatest number of fraternity houses, with over 200 chapter homes. Of those, over 115 are owned by local SigEp Alumni and Volunteer Corporations.

- The Sigma Phi Epsilon Educational Foundation was the first fraternity foundation to build an endowment greater than $11 million.

- The Sigma Phi Epsilon Educational Foundation is a 501(c)(3) charitable foundation. Its program funding is planned to develop the scholarship, leadership, citizenship, and personal potential of college undergraduates

"This Fraternity will be different."
Back to top
Our Cornell Home
---
Life in the House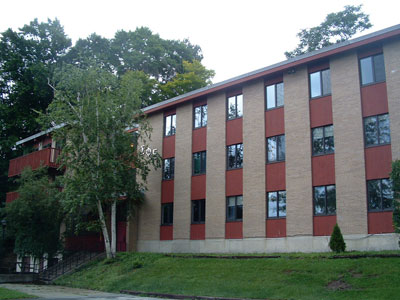 House Facts and Management
Living in the Sigma Phi Epsilon fraternity house is a great experience. Usually, about half the brotherhood lives in the house at a given time, making it central to the activities of the chapter. Although the building is university-owned, brothers (chiefly the house manager and the kitchen steward) are responsible for house maintenance and upkeep. As such, brothers live in a relatively self-sufficient way compared to on-campus housing. The house is typically populated by the entire class of sophomore brothers, and about half the class of junior brothers.
House Resources
The fraternity house is equipped with a full kitchen and dining room, mail room, full laundry room, weight room, and extensive common spaces. The large weight room makes it convenient for brothers to work out with one another and share fitness knowledge. The Mahogany Room, one of the common spaces, is equipped with a flat-screen HDTV, couches, counter space, and a large porch that looks over Ithaca and Cayuga Lake. Brothers are in the habit of frequenting the Mahogany Room for TV after dinner, semi-quiet study spaces, and movie nights during weekends.
House Life & the Kitchen
The center of life in the fraternity house is the kitchen (and attached dining room – always referred to collectively as just "the kitchen"). This is where brothers meet during the day to grab lunch or dinner, make coffee, or just take a break from classes and work. While many brothers have outfitted their rooms with extra seating, televisions, and other furniture for guests, the kitchen is where brothers can be found most of the time. The kitchen is where our chef, Jeff Smith, works, and where lunch and dinner are served throughout the week. Jeff's importance to the brotherhood cannot be overstated. His involvement with the brotherhood for the past 25-plus years has left Jeff with an extensive knowledge of house history, house maintenance and solutions, and alumni. Alumni who return to the house often go to Jeff first thing coming in the door. Brothers also seek Jeff's counsel when they need advice. Equipped with a convection oven, a walk-in refrigerator, an industrial gas stove, ovens, and a deep fryer, the kitchen is a favorite destination for nutritious and/or late-night food when Jeff is out as well. Making and sharing food here is one way that the brotherhood stays close together.
Socializing
Some of our biggest events every year include Homecoming tailgate, "Tacky Formal", Valentine's Day, Duck Derby fundraiser, and our spring formal.

With good weather and attendance, fall's Homecoming Weekend gets the year off to a good start. Dining on burgers and hotdogs from the grill, followed by a migration over to Schoellkopf Field for football, brothers, alumni, and friends enjoy an age-old tradition.

"Tacky Formal" is our version of a fall formal, but with a spin on what counts for formal attire. Instead of donning their best, brothers and their dates wear the most outrageously unfashionable outfits they can scrounge up. Awful color combinations, poorly fitting blazers, mismatched shoes, and only the most outdated styles make it to this hilarious event, usually held at a local bowling alley.

One of our best events in the spring semester is a Valentine's Day date night. With a chocolate fondue fountain and assortment of fruit, brothers bring their special someone to spend an stylish night at the house.

Duck Derby, SigEp's biggest philanthropic event, held around the time of the Kentucky Derby, is a day full of food, prizes, and performances by Cornell a cappella groups! Brothers set up a huge waterslide structure on the steep hill next to the house, which is used as the racetrack for the athletes of the event – rubber ducks! People buy duck numbers for each race, and the owner of the first duck to cross the finish line gets a prize! All proceeds from the ducks, along with Duck Derby T-shirt sales, go to the Ithaca YMCA.

Spring formal, the most extravagant event of the year, comes toward the end of the semester. Usually held at Celebrations Banquet Facility, it is a night full of class. Contrary to Tacky Formal, this time, brothers and their dates actually wear their finest and indulge in a delicious meal before dancing the night away with great company.
Back to top
Activities
---
Athletics
Current members of SigEp participate on the following teams and on house teams, competing in the full range of intramural sports offered at Cornell.
Alpine Ski Team
Club Swim Team
Club Water Polo Team
Varsity Sprint Football
On-Campus Involvement
Sigma Phi Epsilon Brothers' Recent On-Campus Activities

SigEp brothers are active not only within the fraternity, but also in the greater Cornell community as scholars, volunteers, athletes, and leaders. Below are some of current brothers' active involvements on campus.


2013 Senior Class Campaign
Academic Integrity Hearing Board
Agriculture Science Ambassador
Air Force ROTC
Army ROTC
B.O.L.D.
College Ambassador
Collegiate Farm Bureau
Collegiate Future Farmers of America
Cornell Concert Commission
Cornell Daily Sun
Cornell Global Health Student Council
Cornell Historical Society
Cornell International Affairs Review
Cornell Real Estate Club
Cornell University College of Human Ecology Undergrad. Events
Disability Service Troop
Ecology and Evolutionary Biology Lab
Encourage Young Engineers and Scientists
Enrich: Project Kenya
Golden Key International Honor Society
Healthy Aging Lab
Integrative Medicine Club

Kappa Alpha Pi Pre-Law Fraternity
Kappa Omicron New Honor Society
Laboratory for Rational Decision Making
Last Call A Cappella
MESS Express
Mutual Investment Club
Order of Omega
Organization for Urban and Regional Studies
Orientation Leader
Orientation Steering Committee
Outdoor Odyssey
Phi Alpha Delta Pre-Law Fraternity
Phi Beta Kappa Society
Phi Gamma Nu Professional Business Fraternity
Pi Sigma Alpha Government Honors Society
Roosevelt Institute
Slope Media Group
Student Assembly
Student Library Advisor Council
Student Management Corporation
Teaching Assistant, Autotutorial Biochemistry
Teaching Assistant, Hotel Financial Accounting
The Visible Hand Economics Journal

Community Service
New York Beta of SigEp is active with community service. Our philanthropic community outreach events include Duck Derby, SigEp's biggest annual event, held around the time of the Kentucky Derby. Duck Derby is a day full of food, prizes, and performances by Cornell a cappella groups. Brothers set up a huge waterslide structure on the steep hill next to the house, which is used as the racetrack for the athletes of the event – rubber ducks! People buy duck numbers for each race, and the owner of the first duck to cross the finish line gets a prize! All proceeds from the ducks, along with Duck Derby T-shirt sales, go to the Ithaca YMCA.

Following historic flooding in New York State on September 8-9, 2011, the entire chapter joined forces with local relief volunteers in Owego, New York, to aid in the relief efforts. The flooding caused severe and heavy damage to our southerly neighbors, and we felt compelled to use our manpower to help those residents whose homes were destroyed by the floodwaters. NY Beta brothers assisted in gutting homes and beginning the rebuilding process for several affected families.
Back to top